My Blog
Posts for: September, 2020
By Kyle Bouhana, D.D.S.
September 20, 2020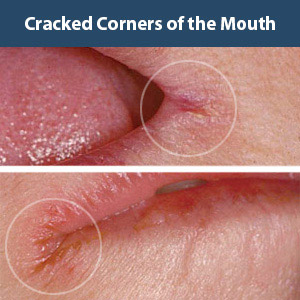 Ever have a paper cut or an irritated hangnail? They're not considered major health problems, but, boy, can they sting!
Something similar can occur in the corners of your mouth called angular cheilitis. It's also known as perleche, from the French word "to lick" (a common habit with this type of sore). It can occur at any age, with children or young adults developing it from drooling during sleep or orthodontic treatment.
Older adults, though, are more prone than younger people for a variety of reasons. Age-related wrinkling is a major factor, especially "marionette lines" that run from the mouth to the chin. Dried or thinned out skin due to exposure from cold, windy weather may also contribute to perleche.
Perleche can also develop from within the mouth, particularly if a person is experiencing restricted salivary flow leading to reduced lubrication around the lips. Poorly cleaned dentures, weakened facial supporting structure due to missing teeth, vitamin deficiencies and some systemic diseases can all lead to perleche. And if an oral yeast infection occurs around the cracked mouth corners, the irritation can worsen and prolong the healing process.
To clear up a case of cracked mouth corners, you should promptly see your dentist for treatment. Treatment will typically include some form of antifungal ointment or lozenge applied over a few days to clear up the sores and prevent or stop any infection. You might also need to apply a steroid ointment for inflammation and other ointments to facilitate healing.
To prevent future episodes, your dentist may ask you to use a chlorhexidine mouthrinse to curb yeast growth. If you wear dentures, you'll need to adopt a regular cleaning routine (as well as leaving them out at night). You might also wish to consider updated dental restorations or orthodontics to improve dental support, and help from a dermatologist if wrinkling might be a potential cause.
Cracked mouth corners won't harm you, but they can make for a miserable experience. Take steps to relieve the irritation and any future occurrence.
If you would like more information on angular cheilitis or similar oral conditions, please contact us or schedule an appointment for a consultation. You can also learn more about this topic by reading the Dear Doctor magazine article "Cracked Corners of the Mouth."
By Kyle Bouhana, D.D.S.
September 10, 2020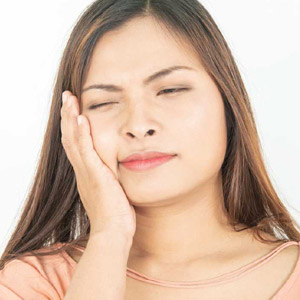 Dentists and oral surgeons remove millions of teeth every year, most without any adverse aftereffects. But about 2% of patients experience a dry socket, a condition that, although not dangerous to health, can be quite painful.
Also known as alveolar osteitis, a dry socket occurs when the blood clot that normally forms right after extraction doesn't form or becomes lost later. The clot serves as a barrier for the underlying bone and nerves during the healing process; without it these tissues can become irritated from contact with air, food or fluids.
Dry sockets (which usually occur in the back, lower molars) are fortunately rare, mainly in patients over 25, smokers or women using oral contraceptives. Patients also have a higher risk of developing a dry socket if they attempt certain activities too soon after tooth extraction like vigorous chewing or brushing that may dislodge the protective clot.
You can reduce your chances of a dry socket after a tooth extraction with a few simple guidelines. Unless advised otherwise by your dentist, avoid brushing the day after extraction and gently rinse the mouth instead. It also helps to avoid hot liquids and eat softer foods for a few days. If you smoke, you should avoid smoking during this time and use a nicotine patch if necessary.
Over the next few days, you should remain alert for any signs of a dry socket, often a dull, throbbing pain that radiates outward toward the ears, and a bad taste or mouth odor. A prompt visit to the dentist will help alleviate these symptoms, often in just a few minutes.
To treat it, a dentist will typically irrigate the socket and apply a medicated dressing, which you would need to change every other day for up to a week. After that, you'll leave the dressing in place for a while as you heal.
A dry socket doesn't interfere with the healing process: Your extraction site will heal whether or not you have one. But prevention and treatment for a dry socket will help ensure your healing after an extracted tooth is much less uncomfortable.
If you would like more information on dry socket after tooth extraction, please contact us or schedule an appointment for a consultation. You can also learn more about this topic by reading the Dear Doctor magazine article "Dry Socket."