My Blog
Posts for: October, 2020
By Kyle Bouhana, D.D.S.
October 20, 2020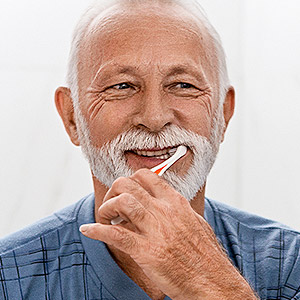 Little things add up. Like your three meals a day, which could total over 87,000 by the time you're eighty. If you average a full night's sleep every night, you will have whiled away over a quarter of a million hours in slumber by your diamond birthday. And if you're the typical American, you will also have spent over 900 hours (or nearly 40 days) brushing your teeth.
If that last example sounds like a lot, it's actually not: If it's a daily habit, that's about two minutes of brushing a day. But that little bit of time could have an incredible impact on your dental health over a lifetime. That's why dental providers commemorate October as National Dental Hygiene Month to call attention to just how important those 900-plus hours can be to a healthy mouth.
Brushing is important because of what a few strains of bacteria can do to your oral health. While most of your mouth's microscopic inhabitants do no harm (and some are even beneficial), the malevolent few cause tooth decay and gum disease, both of which could lead to tooth loss.
These bacteria live in and feed off of a thin biofilm of food particles called dental plaque. Over time, plaque and tartar (a hardened, calcified form) can build up on tooth surfaces. As it grows, so does the mouth's bacterial population and the risk for disease. In fact, just a few days of undisturbed plaque growth is enough time for a gum infection to get started.
Brushing your teeth removes this plaque accumulation, which reduces the bacterial levels in your mouth. A thorough brushing of all surfaces usually takes about two minutes, but it must be done every day to keep plaque at bay. So, yes, a little time spent brushing every day can be a big deal. That said, though, it's not the be-all and end-all of oral hygiene. You should also floss daily since plaque accumulates just as readily in the spaces between teeth where brushing can't reach. We, along with the American Dental Association, recommend brushing twice a day and flossing once a day for optimal oral health.
But no matter how proficient you are with brushing and flossing, you may still miss some spots. Be sure, then, that you also see us regularly for dental cleanings to thoroughly clean your teeth of plaque and fully minimize your risk of dental disease.
Oral hygiene only takes a little of your time each day. But it does add up—not only in the "days" you'll spend doing it, but in a lifetime of better dental health.
If you would like more information about getting the most out of your daily oral hygiene, please contact us or schedule a consultation. To learn more, read the Dear Doctor magazine article "Daily Oral Hygiene."
By Kyle Bouhana, D.D.S.
October 10, 2020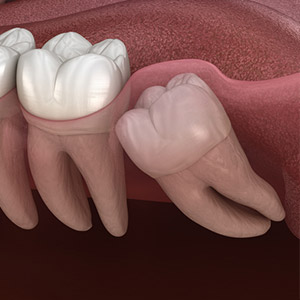 One of the major signs that a young person's dental development is nearing completion is the eruption of the last four permanent teeth: the third molars, located rear-most on either side of both the upper and lower jaws. But the advent of these molars, also called wisdom teeth, isn't always a cause for celebration: They can give rise to serious dental problems.
Wisdom teeth often arrive on an already crowded jaw, making them subject to erupting out of position or becoming impacted, totally or partially submerged in the gums. This can cause harm not only to themselves, but also to other teeth: They can impinge on and damage the roots of their neighbors; impede brushing and flossing and increase the risk of disease; and skew the alignment of other teeth to create poor bites that affect dental health and function.
Wisdom teeth are considered so prone to these problems (an estimated 70% between ages 20 and 30 have at least one impacted molar) that it's been a common practice to remove them before they show signs of disease or poor bite development. As a result, third molar extractions are the most common surgical procedure performed by oral surgeons.
But the dental profession is now reevaluating this practice of early removal. On the whole, it's difficult to predict if the eruption of wisdom teeth in a particular person will actually lead to problems. It may be premature, then, to remove wisdom teeth before there's sufficient evidence of its necessity.
As a result, many dentists now follow a more nuanced approach to wisdom teeth management. An impacted wisdom tooth that's diseased or contributing to disease is an obvious candidate for removal. But if the eruption is proceeding without signs of impaction, disease or poor bite development, many providers recommend not removing them early. Instead, their development is allowed to continue, although monitored closely.
If signs of problems do begin to emerge, then removal may again be an option. Until then, a more long-term watchful approach toward wisdom teeth may be the best strategy for helping a young person achieve optimal dental health.
If you would like more information on managing wisdom teeth treatment, please contact us or schedule an appointment for a consultation. You can also learn more about this topic by reading the Dear Doctor magazine article "Wisdom Teeth: Coming of Age May Come With a Dilemma."