My Blog
Posts for: January, 2021
By Kyle Bouhana, D.D.S.
January 18, 2021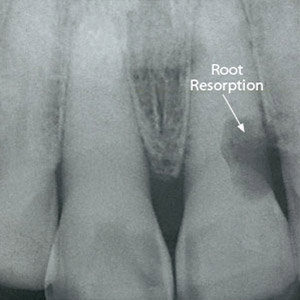 Most dental problems are caused by tooth decay or periodontal (gum) disease, easily preventable with dedicated daily hygiene and regular dental care.  But there are a few other rare conditions to be on alert for that could pose just as serious a threat to your dental health.
One of these is a phenomenon called root resorption. Put simply, certain cells arise within a tooth root that eat away and dissolve (resorb) tooth structure. Left unchecked, it could eventually lead to the tooth's demise.
Although its exact cause remains elusive, we suspect root resorption is associated with trauma to the gum ligaments earlier in life, perhaps from an injury or too much force applied during orthodontics. Other possible contributing factors include teeth-grinding habits or internal tooth bleaching procedures.
Root resorption in adults isn't that common, so your chances of experiencing it are low. But it is still possible, so you should be on the lookout for potential signs: Early on, it may appear as faint pink spots on teeth where the enamel has filled with the destructive cells eating away at the tooth. In time, these spots can increase to form cavities.
More than likely, though, your dentist may detect the problem during a dental exam. That's why regular dental cleanings and checkups are essential—a routine exam is a prime opportunity to uncover conditions like root resorption that silently undermine your teeth.
If found early, we can often treat root resorption effectively. We can often expose a small affected area with minor gum surgery, remove the harmful cells and fill any cavities with a tooth-colored filling. In some cases, we may recommend orthodontics beforehand to encourage a buildup of bone around the root by moving the affected tooth outward from the jawbone. If the resorption has affected the tooth pulp, you may also need a root canal treatment.
There is also the possibility with advanced resorption that the best course of action is to remove the tooth and replace it with a dental implant. So, keep up your regular dental visits—early detection and intervention can stop this destructive dental condition from destroying your tooth.
If you would like more information on root resorption, please contact us or schedule an appointment for a consultation. You can also learn more about this topic by reading the Dear Doctor magazine article "Root Resorption: An Unusual Phenomenon."
By Kyle Bouhana, D.D.S.
January 08, 2021

What a difference forty years can make: Dental bridges once occupied the top spot for choices to replace missing teeth until the arrival of dental implants in the 1980s. Today, dental implants are the gold standard for dental restoration.
But although bridgework may have lost "first chair" in the orchestra of restorations, it's still a viable option. In fact, it can be the best option in certain situations.
Bridges consist of a series of porcelain crowns fused together like fence pickets. The center crowns, known as the pontics, "bridge" the gap left by a missing tooth or teeth. The crowns on each end, the abutment teeth, crown the natural teeth on either side of the gap to support the bridge.
Bridges are effective and durable, but with a major downside: To accommodate the abutment crowns, we must reduce the size of the natural teeth to which they'll be attached. This alteration can weaken those teeth's structure and require them from then on to have some form of restoration. They're also at higher risk for tooth decay.
Implants, on the other hand, don't require this alteration, and may also be more durable than bridges. Why then consider a bridge?
Price can be a factor: Implants may be more expensive, especially involving multiple teeth. Keep in mind, though, that this only compares the initial cost: Because implants have a 95% or more ten-year success rate, with further evidence they could potentially last for decades, they may actually cost less in the long-run than bridge restorations that have a higher chance of being replaced sooner.
But the prime reason is that some dental situations aren't suitable for dental implants. For instance, implants require a certain amount of bone for proper placement, so people with extensive bone loss may not be able to acquire them. Health conditions like uncontrolled diabetes or a compromised immune system can also complicate implant installation. A bridge in these cases may represent a better alternative.
With the help of your dentist, you'll need to consider your individual situation, dental and financial, in deciding between an implant or a bridge. And, if a dental bridge is your best option, it will be a solid choice for restoring your missing teeth and your smile.
If you would like more information on various dental restoration methods, please contact us or schedule an appointment for a consultation. You can also learn more about this topic by reading the Dear Doctor magazine article "Crowns & Bridgework."