My Blog
Posts for tag: tooth decay
By Kyle Bouhana, D.D.S.
June 22, 2020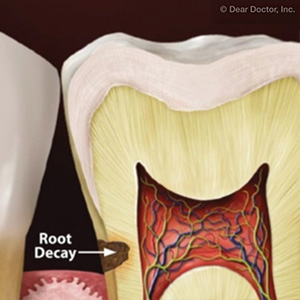 Tooth decay is one of two dental diseases most responsible for tooth loss (gum disease being the other). In the absence of treatment, what starts as a hole or cavity in a tooth's outer layers can steadily advance toward its interior.
Most people associate cavities with the crown, the part of a tooth you can see. But cavities can also occur in a tooth's roots, especially with older adults. Root cavities pose two distinct difficulties: They can lead to more rapid decay spread than crown cavities within a tooth; and they're harder to detect.
Tooth roots are ordinarily covered by the gums, which protects them from bacterial plaque, the main cause for decay. But roots can become exposed due to receding gums, a common problem with seniors who are more susceptible to gum disease.
Unlike the enamel-covered crowns, tooth roots depend on gum coverage for protection against bacteria and the acid they produce. Without this coverage, the only thing standing between tooth decay and the roots is a thin material called cementum.
If decay does enter a tooth's interior, saving it often requires a root canal treatment to remove decayed tissue in the inner pulp and root canals, and then replacing it with a filling. But if we're able to discover a root cavity in its early stages, we may be able to fill it like a crown cavity.
The best strategy, though, is to prevent root cavities from forming. This starts with a dedicated daily regimen of brushing and flossing to remove dental plaque. If you're at high risk for root cavities, we may also recommend antibacterial mouthrinses and other aids.
Regular dental visits are also a must: a minimum of twice-a-year dental cleanings to remove stubborn plaque and calculus (hardened plaque) deposits. For added protection against root cavities, we can also apply fluoride varnish to strengthen teeth. And regular visits are the best way to detect any cavity in its early stages when treatment is less invasive.
A heightened risk of dental problems like root cavities are a part of the aging process. But partnering together, we can lower that risk and increase the longevity of your teeth.
If you would like more information on root cavities, please contact us or schedule an appointment for a consultation. You can also learn more about this topic by reading the Dear Doctor magazine article "Root Cavities."
By Kyle Bouhana, D.D.S.
February 23, 2020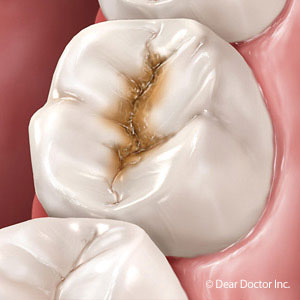 Tooth decay doesn't occur out of thin air, but is the end result of bacteria feeding on sugar, multiplying and producing acid. High acidity erodes tooth enamel and creates an environment for cavity development.
Modern dentistry can effectively treat cavities and often save the tooth from further damage. But you don't have to wait: You can reduce your chances of cavities by managing risk factors that contribute to decay.
Here are 4 top risk factors for tooth decay and what you can do about them.
Poor saliva flow. Saliva neutralizes acid and helps restore minerals to enamel after acid contact. But your enamel may not have full protection against acid if you have diminished saliva flow, often due to certain medications. You can help increase your saliva by consulting with your doctor about drug alternatives, drinking more water or using a saliva boosting product. Smoking can also inhibit saliva, so consider quitting if you smoke.
Eating habits. High sugar content in your diet can increase bacterial growth and acid production. Reducing your overall sugar consumption, therefore, can reduce your risk of decay. Continuous snacking can also increase your decay risk, preventing saliva from bringing your mouth back to its normal neutral pH. Instead, limit your snack periods to just a few times a day, or reserve all your eating for mealtimes.
Dental plaque. Daily eating creates a filmy buildup on the teeth called dental plaque. If not removed, plaque can then harden into a calcified form called calculus, an ideal haven for bacteria. You can help curtail this accumulation by thoroughly brushing and flossing daily, followed by dental cleanings at least every six months. These combined hygiene practices can drastically reduce your cavity risk.
Your genetics. Researchers have identified up to 50 specific genes that can influence the risk for cavities. As a result, individuals with similar dietary and hygiene practices can have vastly different experiences with tooth decay. Besides continuing good lifestyle habits, the best way to manage a genetic disposition for dental disease is not to neglect ongoing professional dental care.
If you would like more information on managing your tooth decay risk factors, please contact us or schedule an appointment for a consultation. You can also learn more about this topic by reading the Dear Doctor magazine article "What Everyone Should Know About Tooth Decay."
By Thomas L. Bouhana, D.D.S.
June 27, 2016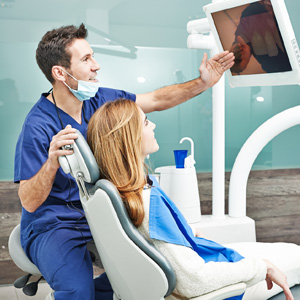 Preventing tooth decay is mostly about the basics: daily brushing and flossing followed by regular dental cleanings and checkups. But there's also a bigger picture: your own personal risk profile for decay based on factors you can modify directly — and those you can't.
The first type of factor usually involves habits and behavior that either work with your mouth's natural defenses to fight decay or against it. Besides regular hygiene, your diet is probably the most important of these you can modify for better dental health.
A diet rich in fresh vegetables, protein and dairy products boosts strong, healthy teeth resistant to decay. Conversely, bacteria thrive on the sugar in many snack foods, while sodas, sports or energy drinks elevate acid levels that soften and erode the minerals in your teeth's enamel.
Lifestyle habits like tobacco use or excessive alcohol consumption also increase your decay risk. Not only do they promote plaque buildup (the thin film of bacteria and food particles that feeds the decay process), but tobacco especially can impede the body's natural prevention and healing properties.
Conscientious hygiene practices, a dental-friendly diet and modified lifestyle habits all can help you prevent decay. But diligence may not be enough — there are other possible factors you can't control or may find difficult to change. For example, you may have a genetic propensity toward certain bacteria that cause decay. You may have a condition like gastric reflux that increases the mouth's acid level. You may also be taking medications that reduce saliva flow, the mouth's natural acid neutralizer.
But if we know which of these indirect risk factors affect you, we can compensate with extra measures. If enamel strength is a problem we can topically apply fluoride; we can also reduce chronic bacterial levels with prescription rinses. If you have restricted saliva flow, we can attempt to modify your prescriptions through your doctor or prescribe aids that increase saliva.
The key is to investigate your complete risk factor profile through a thorough dental examination. Once we know everything about your mouth, life and health that increases your decay risk, we can put in place a balanced strategy of prevention and treatment just for you. Doing so will greatly increase your chances for keeping your teeth decay-free and healthy.
If you would like more information on preventing and treating dental disease, please contact us or schedule an appointment for a consultation. You can also learn more about this topic by reading the Dear Doctor magazine article "Tooth Decay: How to Assess Your Risk."